Thanks to the official Call of Duty Twitter page we know that Season 3 of Warzone Pacific will start on April 27, 2022, at 9 AM PT / 12:00 PM ET / 5:00 PM BST. The official start date was revealed on April 13 alongside a brand-new teaser trailer. This was what most players expected, seeing as this date aligns with the Season 2 Battle Pass expiring.
Keep in mind that Warzone Pacific Season 2 was delayed by a fortnight, so don't be too surprised if Raven Software chooses to delay Season 3 slightly as we get closer to the release date.
Godzilla vs Kong event: Warzone Pacific Season 3 Operation Monarch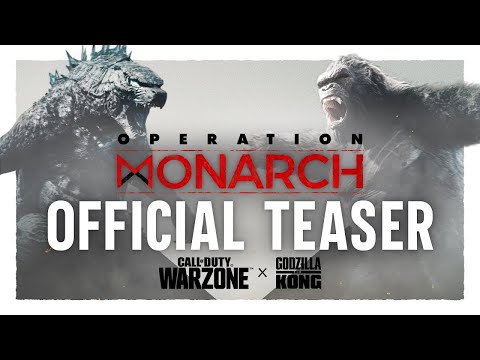 After plenty of teasers, Call of Duty fans finally got official confirmation of a Godzilla vs Kong crossover. It seems these two massive monsters will have a significant impact on Warzone Pacific Season 3 as an in-game event called Operation Monarch will get underway on May 11.
Both monsters will lay siege to Caldera wreaking havoc across the island. Although exact details of the event are unknown, players can expect to see "Ancient cave paintings, massive skulls, and an otherworldly axe."
At this moment, we do know that Operation Monarch will introduce players to a new game mode for Quads. While Operation Monarch won't start until May 11, players will be able to uncover secrets when Season 3 launches on April 27.
Another major detail of this monster crossover is the location of a top-secret armory. Players have yet to get a glimpse at these prototype weapons but they're sure to be powerful if they're made to take on Godzilla and King Kong.
Warzone Pacific Season 3 new weapons
Four new Vanguard weapons will make their way to the rotation in Season 3. The weapons include the M1916 Marksman Rifle, Nikita AVT: Assault Rifle, Sledgehammer melee weapon, and H4 Blixen SMG.
The M1916 and Nikita AVT will be available when the Season starts on April 27, but the Sledgehammer and H4 Blixen will arrive with the mid-season update. To find out more about the new weapons, check out our guide to Vanguard Season 3.
Caldera map changes arrive in Warzone Season 3
Given that two ginormous monsters will be taking over Caldera, there are bound to be some reconstructed areas. For starters, players will be able to discover a brand-new POI called Dig Site.
The new POI will be "Located between the Mine and the Ruins." If you plan on visiting Dig Site, you'll likely come across the remains of ancient creatures buried deep within the ground.
In addition to this new POI, existing POIs will also receive updates to alter their look and feel. Runway, Peak, and Lagoon will all receive major updates. Warzone players have been asking for changes to Peak and you'll notice the POI has now been fortified.
"All buildings atop the Peak are fully built up, with a fresh coat of paint revealing the symbol of the mysterious global organization known as Monarch – the cryptozoological defense force investigating Titan activity on the island."
Other changes include offering more visibility and less cover around the Runway POI, as well as new ships to explore near Lagoon. Lastly, the devs teased that hidden secrets are "shaking and booming underneath the island." We'll likely find out more about this prior to the mid-season update.
Warzone Season 3 new Gulag & gameplay
Those aren't the only changes coming to the map as players will also experience a brand-new Gulag. Players will move from the mines underneath Caldera to an area called the Hold.
"Enter the Hold: a new Gulag developed by Toys for Bob. This roughly symmetrical arena is based in the belly of a ship moored just off the coast of Caldera, with identical hallways on the perimeter of an otherwise open space."
The devs also tease some additional game mode changes coming to Rebirth Island, "Be on the lookout for another Rebirth twist on a classic Warzone mode to come from Beenox when the mid-season update arrives."
Raven have confirmed that Iron Trials will be playable on Caldera in Season 3. This is great news for fans of the intense game mode.
Finally, the Season 3 Roadmap also hints at "New Gameplay" set to arrive with Classified Arms. Although there's no news yet on what this might be, we'll keep you posted about potential new game modes in Warzone.
New Operators & bundles in Warzone Season 3
Of course, with a new Season comes new Operators. Season 3 will introduce players to Task Force Harpy which includes Mateo Hernandez, Florence Carter, and Kim Tae Young. Mateo will be available at the start of Season 3, while Florence and Kim will arrive later on.
In addition, the roadmap also teases Godzilla and King Kong bundles that look to highlight some sort of monster Operator skins. Players were skeptical about the possibility of Godzilla and King Kong skins but begged the devs for them nonetheless.
Footstep audio adjusted in Warzone Season 3
Aside from all of this new content, we can also expect adjustments for directional footstep audio in Warzone Pacific Season 3.
Speaking to content creators and the press back in February, alongside announcing Modern Warfare 2 and Warzone 2, Raven Software confirmed that footstep audio adjustments are planned for the Season 3 update.
Sniper nerfs confirmed for Warzone Season 3
Snipers have long been one of the most powerful tools in Call of Duty: Warzone, but that's set to change with Season 3.
Raven Software Creative Director Ted Timmins confirmed that Sniper Rifles would be seeing nerfs in Season 3, telling content creators the Baka Bros that "We do plan a weapon shift for the Snipers. I'm happy to say that." He elaborated: "I feel really good about where we're going with that."
The Iron Trials mode has previously made it so that Snipers can only one-shot headshot within a certain distance, but we'll need to wait on more info to know the extent of the nerfs.
Warzone & Modern Warfare devs make major change to file size in Season 3
The Season 3 roadmap confirmed that the devs would be resizing Modern Warfare's campaign, multiplayer, and Special Ops console DLC. They explained that once this optimization takes place, "the overall game footprint will be reduced for Warzone players."
But, players might need to clear some space from their hard drive first, as the devs confirmed that "These changes will likely see a larger than usual download size for Warzone and Modern Warfare."
Here are all of the DLC packages that you'll be able to install or delete after the Season 3 update:
Call of Duty: Modern Warfare — Campaign DLC 1
Special Ops DLC 1
Multiplayer DLC 2
Campaign and Special Ops DLC 1
Multiplayer and Special Ops DLC 1
There's been no confirmation of how big each of these MW DLC packs will be after the Season 3 update, nor big Warzone will be overall. But, console players should find Warzone taking up much less room on their console storage.
Source: Call of Duty blog