Warzone Season 4 Mercenaries of Fortune start date
Call of Duty: Warzone Season 4 has officially been announced, releasing on June 22, 2022. The new update will roll out at 9 AM PT / 12 PM ET / 5 PM BST.
Assuming there are no delays, Warzone's Season 4 update should go live on June 22, but stay tuned for any official updates from Activision and Raven Software.
Warzone Pacific Season 4 Fortune's Keep map
Warzone will receive a brand-new map in Season 4 as the Call of Duty team has shared details for a destination known as Fortune's Keep which is said to contain "new riches."
While some are slightly worried about the map replacing Warzone's Rebirth Island, the devs confirmed that all three maps will be playable during Season 4 with regular weekly playlist rotations. However, it seems Rebirth Island won't be available at the start of the new Season.
Warzone Fortune's Keep release date
The Call of Duty team revealed that June 22 is the release date for Fortune's Keep as Warzone Season 4 Mercenaries of Fortune is set to commence. Seasonal updates usually occur around 9 AM PT / 12 PM ET / 5 PM BST, so keep an eye out for the update on June 22.
While Season 4 of Vanguard and Warzone is still shrouded in a ton of mystery, the key art reveals a massive amount of gold bricks in what seems to be a vaulted area.
Warzone Fortune's Keep official reveal
Call of Duty uploaded the Fortune's Keep reveal to their YouTube channel, with new Operator Butcher taking players through all the new locations such as the Keep, Winery, and Smuggler's Cove.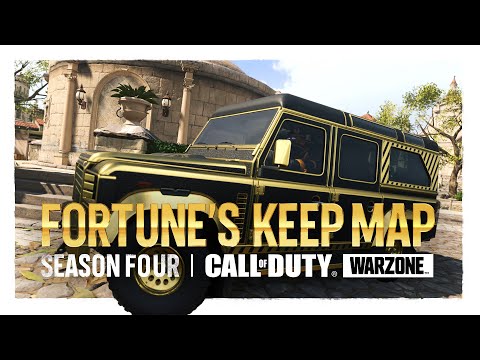 Warzone Fortune's Keep Tac Map & POIs
On June 12, the official Call of Duty Twitter account began teasing the new map, calling for players to guess the missing letters to reveal the name. Shortly after, the name "Fortune's Keep" was revealed.
Then on June 13, the Call of Duty Twitter account tweeted out an area of Fortune Keep's Tac Map, revealing that there will be twelve pieces that need to be uncovered. These new Warzone areas were then pieced together by the Call of Duty community in an attempt to "Complete the map and claim your fortune."
Here's the first look at Fortune's Keep Tac Map which highlights twelve different POIs. Portions of the map were revealed to Warzone content creators, and slowly but surely the full Tac Map came together with the following POIs:
Overlook
Town
Graveyard
Terraces
Keep
Gatehouse
Grotto
Smuggler's Cove
Bay
Winery
Camp
Lighthouse
Straight away it seems to be a small map akin to Rebirth Island. It remains to be seen in what way, if any, this map is connected to the Rebirth Island that players know and love.
Whether the two share a connection or not, players will have a brand-new map to discover in Season 4 with exciting POIs like Keep, Smuggler's Cove, and Town.
In the Warzone Season 3 Reloaded blog post, it was mentioned that Rebirth Island is under attack from a group of hackers at an unnamed location. This is why the regular Occupational Scans occur during matches.
"Although there are no physical threats detected, we are led to believe that mercenary forces, currently stationed at [[REDACTED]] may be contracted shortly to attack our Alliance on Rebirth Island," the Call of Duty blog said.
With a name like Fortune's Keep, all signs are pointing to a group of pirates disrupting Rebirth Island from afar, and players will likely have to deal with the threat during Warzone Season 4.
Warzone Caldera map changes in Warzone Season 4
In each season of Warzone Pacific, Caldera undergoes significant map changes, and, Raven Software teased in a pre-Season 3 interview with us that Season 4 will bring "one of the biggest shifts Caldera has had since launch."
On June 15, the Call of Duty Team revealed what changes they have in store for Caldera. It seems the changes will include new POIs, including the return of Verdansk's Storage Town, less vegetation around the island to improve visibility, and Secret underground Mercenary Vaults.
New weapons in Warzone Season 4
As is tradition, a new season means brand-new weapons to unlock. In Season 4, players will have a total of four new weapons to discover. The first two are the Marco 5 SMG and UGM-8 LMG which will be available at the start of Season 4
The Push Dagger melee weapon and Vargo-S Assault Rifle will be available to players later on in the season.
Mercenaries of Fortune Event
The Mercenaries of Fortune Event in Warzone Season 4 will feature a new set of challenges for players to complete. They will take place on both Caldera and the new Fortune's Keep map.
Stay tuned for the specific challenge details but the devs confirmed that there will be eight in total.
"Complete all eight challenges to earn the coveted gold skin for the Armored SUV. Ride around in this thing and there'll be no mistaking you for a common mercenary."
Warzone Golden Plunder LTM
Plunder has always been about the cash, which is why it's the perfect fit for a new Season 4 LTM. In Golden Plunder, Warzone players will fight for bags of gold, and only those who secure the highest amount of cash can claim victory.
You can expect lobbies of 120 players when playing the Golden Plunder LTM. $5,000,000 is required for a win, but luckily players drop more cash on death.
New Warzone features in Season 4
Black Market Run Contract
A new contract is making its way to Warzone in Season 4. Players who activate the Black Market Run Contract will be tasked with reaching the Black Market Buy Station before a timer expires.
If you can do so, you'll be able to use your cash to claim valuable rewards that aren't found at regular Buy Stations like a Specialist Bonus or Nebula V Minigun.
Cash Extraction
Cash Extraction will be a feature of Resurgence Battle Royale matches. As players attempt to airlift their Cash off Fortune's Keep, you can ambush them and claim the rewards for yourself. Just keep in mind that you may not be the only team with this objective.
Armored SUV
Armored SUVs are coming to Warzone in Season 4 as a new form of transportation. These new vehicles will facilitate movement around the map, but they can do so much more.
This vehicle is specifically designed to go on the offensive. You'll be able to fire at players with a rooftop turret. The SUV also comes equipped with Nitro Boost to provide instant acceleration when you need to make an evasive maneuver.
EMP Grenade
With the new EMP Grenade, you'll be able to fully disable vehicles for a period of time. This will act as the perfect counter to the aforementioned Armored SUV. The area of effect will only last for a short time so you're going to want to make your equipment usage count.
While the EMP Grenade is non-lethal to players, it will strip them of their HUD information for a period of time.