The June 10 broadcast of the Summer Games Fest event saw the official premiere of the Call of Duty: Warzone and Black Ops Cold War Season 4 gameplay trailer, and it delivered plenty of exciting teases for players.
The start of Season 4 for Warzone and Black Ops Cold War will be taking place on June 17, 2021. However, the community was able to get its first look at some of the content coming to the games in the official Season 4 gameplay trailer that was released on June 10, 2021, during the Summer Games Fest broadcast.
This gameplay trailer and broadcast provided players with first looks at new maps coming to Black Ops Cold War, a new Point of Interest and Gulag for Warzone, and the story that will focus on the games for the foreseeable future.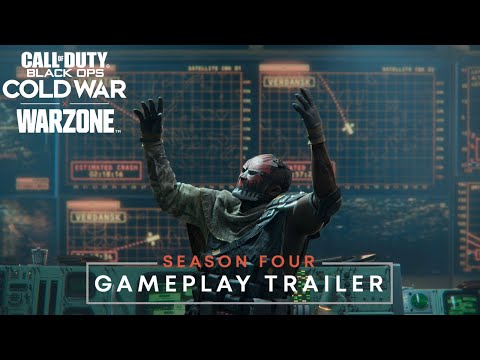 Warzone Season 4
One of the major details for the next season of the Call of Duty battle royale that was shown in the gameplay trailer was the arrival of a new Point of Interest in Verdansk '84.
This new POI is a crashed Satellite that looks to have been shot down by one of the new Operators that will be joining the franchise this upcoming season.
You can grab a glimpse of the new Warzone Season 4 POI in the clip below:
The Summer Games Fest broadcast also provided players with an exciting update regarding what to expect from the Gulag in Season 4.
Call of Duty General Manager Johanna Faries was interviewed during the show and stated that the popular Black Ops II map Hijacked will be the new Gulag for Season 4.
The gameplay trailer also gave fans a quick look at the updated Gulag which you can find below:
Black Ops Cold War Season 4
There were plenty of exciting reveals from the gameplay trailer for Black Ops Cold War, as three new maps were announced to be arriving in the new season.
Collateral will be a new 6v6 and 12v12 map, while classic Black Ops II map Hijacked will be making its debut in Cold War as a 6v6 map, and Amsterdam will be the newest 2v2 map for the first-person shooter.
A quick clip of some upcoming Zombies content was also shown briefly during the gameplay trailer.
Still, no major pieces of information were provided in the video regarding exactly what this new Zombies content will be, with past leaks suggesting it could be a new map set in Berlin.