Heeeeeelloooooooo Potatoes of GRG - It's that time of year.
As usual the GRG Community was a huge supporter of my Extra Life Campaign in 2021!! You folks came through like CHAMPS for my fundraising efforts and helped me exceed my initial fundraising goal last year ($1,500). My goal for this year has started out at $1,750 which is aggressive based on last year's total campaign. I have a few big Milestones at $500 and $1,000 total for the year. In addition to the BBQ Sauce I also have some other more fun and interactive incentives for my gaming sessions. I'm also giving away Xbox Gift Cards, Amazon Gift Cards and others during my streams. Check me out on Twitch and all you have to do is make at least one (1) $5 donation to be eligible for the drawings.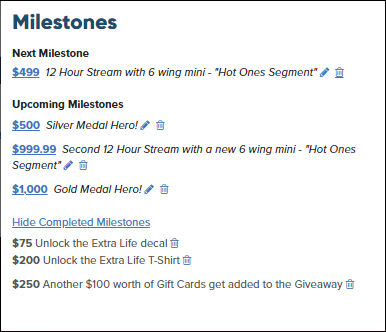 For you repeat customers, if any of you are jonesing for some more "World Famous" BBQ sauce (well at least GRG Famous) I got you covered. For noobs, Extra Life is a grassroots fundraising campaign where gamers raise money for their affiliated CMN Children's Hospital through marathon game play, gameplay incentives or maker items (like BBQ Sauce, Dice or even artwork). This is the Eighth year I've been participating and the GRG Community is what got me connected with Extra Life way back when.
As in past years I've added incentives for GRG members to contribute to my EL fundraiser. For those that are new, this money goes directly to my local hospital (Phoenix Children's Hospital) and I cover the production and shipping cost of the sauce. Children's Miracle Network does great things all over the country, so even if you don't end up participating or purchasing anything, please take the time to go learn about Extra Life and CMN's mission and how long they've been helping sick kids.
There are Three (3) flavor varieties; I make a "Hot" variety with Pineapple, Jalapeno and Habanero along with a "Super Hot" with Apricots, a higher concentration of Habanero and Ghost Peppers. Last year I introduced a "Ridiculously Hot" variety with Pineapple, Turbinado Brown Sugar and Carolina Reapers. I'll link to past threads about heat, quality, etc… (here)
Hot – Abomination (Pineapple, Jalapeno & Habanero)

Super Hot – Chupacabra (Apricot, Habanero & Ghost Peppers)

Ridiculously Hot - Baron Samedi (Turbinado Brown Sugar, Pineapple and Carolina Reapers)
BBQ Sauce Feedback:
2016/2018/2019 - Thread
2020 - Thread
2021 - Thread
This Year's Breakdown
$25 - Single (1) ~17 oz bottle of sauce shipped to you (any variety)

$25 – "Mini-Trio Sampler" Three (3) ~8 oz bottle of sauce shipped to you (One of each variety)

$40 - Single (1) ~34 oz / 1 Liter bottle of a single flavor or (2) ~17 oz bottle of any flavor (if requested)

$60 – "Trio Sampler" Single (1) ~17 oz bottle of each flavor

$100 – 1 Gallon of Sauce in any size and flavor combination

Over $100 – Let's have a conversation
My Fundraising Portal for Extra Life
@h2daddy @Claude505 @koldfront_kraig @Lala_Calamari @Grex
Feel free to tag and share with any of the new folks.