Join Drizzt Do'Urden and his heroic companions on a journey through Icewind Dale in Dungeons & Dragons: Dark Alliance, the upcoming co-op action brawler from Tuque Games. We've got everything you need to know about the game right here, so get comfortable and see just where this adventure will take us.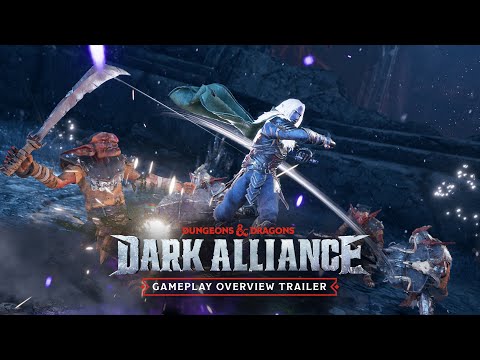 R.A. Salvatore's Forgotten Realms best-selling novels are beloved by fans around the world, so it's only fitting that they get a game focused on their heroic exploits. Developed by Tuque Games, Dark Alliance takes us to Icewind Dale where the armies of evil are growing stronger as they search for the Crystal Shard, dragons and frost giants wreak havoc, and darkness is bearing down on those that call the Dale home. We'll need to grab some friends and join Drizzt Do'Urden (highly mobile rapid striker), Catti-brie (long-ranged tactician), Bruenor (front-line tank), and Wulfgar (heavy attacker) to fight back against the overwhelming odds. Prepare to squabble amongst yourselves about who is playing which character, as only one of each can be in a party. That said, Tuque Games does plan to allow parties of any configuration in a post-launch update, which could make for some interesting gameplay!
Dark Alliance can be played completely solo if you wish, but the games best shared with a group of friends which Tuque Games says is a "dynamic co-op experience with explosive real-time combat." You'll have access to 50 moves to use and unlock with each of the four characters, including team-up moves and ultimate abilities to unleash against your foes. Using a system called 'Emergent Combat,' Dark Alliance gives you simple controls like light attacks and heavy attacks when you start, but as you level up and become more comfortable with the combat, you'll gradually build up your move set until you're launching into complex combos to tackle the myriad enemies bringing darkness to Icewind Dale — White Dragons, Beholders, and Frost Giants all make an appearance for that true Dungeons & Dragons experience and offer worthy adventurers powerful gear as a reward for felling them.
There are three main mechanics at play that will determine your prowess in combat, so ensuring you're keeping an eye on resource management and correctly performing combos is key if you hope to tackle the game at its harder difficulty tiers:
Stamina
Up first is Stamina, which has two variants: Soft and Hard. Soft Stamina is the resource that you'll use for the game's basic actions, and it regenerates when you're not performing any combos. Hard Stamina, however, is your maximum Stamina bar and it'll be temporarily depleted when using powerful attacks. You can only replenish your bar by resting, using potions, executing parries, and using Ultimates.
Hit Meter/Ultimate
Ultimates are your powerful abilities but can only be earned by filling your Hit Meter. The more hits your team can deal in a row without respite, the more your shared Hit Meter will fill.
Critical Damage
Tuque Games says that the critical damage system in Dark Alliance is like rolling with an advantage in D&D. There's a variety of ways to deal critical damage, including attacking downed creatures and striking enemies from behind, and performing certain attacks will offer differing chances of dealing critical damage.
Dark Alliance launches on June 22nd for Xbox Series X|S, Xbox One, and Windows 10, launching straight into Xbox Game Pass and Xbox Cloud Gaming. Cross-play will also feature between console and PC, with cross-platform support for Steam planned as a post-launch update. For those of you picking up the game on Windows 10, Tuque Games suggests you hook up a controller to your PC for the best experience, due to the 'Emergent Combat' system being developed with controller layouts in mind.
The game hasn't even launched yet and already, the team is planning two new free updates and an expansion that we can expect to see later this year.
Free Update 1: Wraiths
This first update is expected to launch this summer and includes a new story mission spanning three levels. Players will need to confront a faction of Wraiths that are trying to corrupt a forest spirit. The team also plans to add two-player split screen for Xbox Series X|S and Windows 10 with this update.
Free Update 2: Trolls
Planned for a Q3 release, this update will again add a new story mission with three levels to play. This time, you'll need to destroy the Trolls that have invaded Kelvin's Cairn. New Challenge Ratings will also feature, giving you greater difficulties to overcome.
Expansion: Echoes of the Blood War
The year will be finished off with Echoes of the Blood War — a large paid expansion that adds a new magic-wielding class, story missions, levels, and of course, plenty of cuddly monsters for you to high-five with an axe.