The Lead: 12v12 Moshpit Comes to Black Ops Cold War
This Thursday, 12v12 combat comes to 6v6 maps for the first time in Black Ops Cold War in the new 12v12 Moshpit ! Play intense 24-player respawn modes on 6v6 maps starting on May 13th. If you thought Nuketown '84 was your go-to for camo challenges already, just wait until you try it with twice as many players…
Also starting on Thursday, players can jump right into the newest Gunfight Tournament with their duo partner and compete against the best in the bracket for exclusive new rewards. Now's the time to get in plenty of practice with your teammate in Gunfight Blueprints before the Tournament begins on the 13th.
And finally, the Party Games playlist collection continues this week with Prop Hunt, Gun Game, and Sticks and Stones! Get ready to dive in and party down.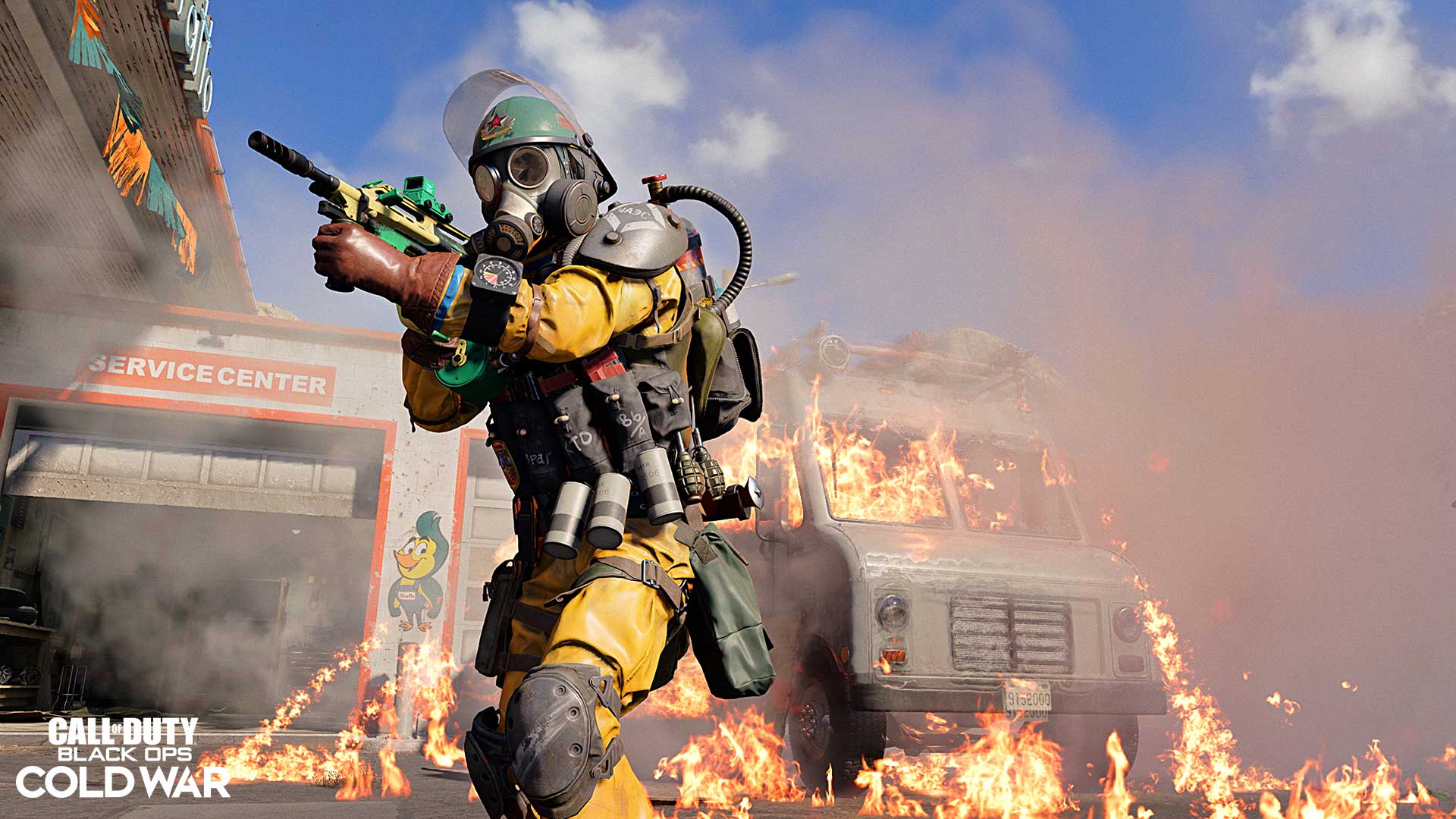 What's In Store This Week
Earn the fear and distrust of your enemies when the Tracer Pack: Antonov Operator Bundle hits the store this week, featuring his Legendary "Meltdown" Operator Skin. Also included are two Legendary Weapon Blueprints with nuclear tracer fire and dismemberment effects: the "Toxic Contaminant" Tactical Rifle and the "Nuclear Response" SMG. The Pack also includes the "Radiation Detector" Wrist Accessory, the "Toxic Spill" Charm, the "Chemical Burn" Animated Emblem, the "Toxic Throne" Animated Calling Card, and the "Radiator" Vehicle Skin.
This next bundle, the Tracer Pack: Tropical , packs a bigger wallop than a double piña colada with three Legendary Weapon Blueprints: the "Extended Vacation" Sniper Rifle, the "Subtropic" SMG, and the "Tropic Elite" Pistol. Also included in the bundle are the "Caught Staring" Finishing Move, the "CHAMPS" Champagne Bottle Charm, the "Tropic Tumble" Calling Card, and "Pineapple Elite" Sticker.
Next up is The Drifter , a Western-themed bundle of four items with the Epic "Tanner" Tactical Rifle Blueprint as its centerpiece. Also in the bundle are a new Reticle, Stone's "High Plains" Operator Skin, and the "Dead Still," Epic Calling Card.
Finally, players can rock on with the Music Legend Mastercraft Bundle , an eight-item pack featuring Wolf's Legendary "Rockstar" Operator Skin and the heavy metal-themed Ultra "Shredder" Assault Rifle Mastercraft. There's also the Legendary "Amped Up" Pistol Blueprint, as well as the "Super Disco" Charm, the "Center Stage" Dirt Bike Vehicle Skin, the "Battle Shredder" Emblem, "Soul Searcher" Watch, and "Cultural Export" Calling Card.